We Are the exclusive agent for Alpine Metal Tech Austria for the southern African Region.
*Except for the GEGA product line in South Africa
Alpine Metal Tech is a world leader in the Steel, Automotive and Aerospace Industry.
The Alpine Metal Tech Group develops, designs, produces and services special plants and machines for the steel industry in the field of Cutting, Deburring and Handling, as well as Marking Reading and Tracking and Identification, Inspection and Measuring.
Furthermore, Alpine Metal Tech delivers systems and machines in the automotive industry to support aluminium wheel production. The product range encompasses handling, marking, machining, measurement, and testing. Within the division aerospace.
Alpine Metal Tech is a leading provider of live training simulators for every fire-related eventuality.
The fourth division Life Cycle Business guarantees a comprehensive and customized service offer for every phase of the product life cycle for the international customer base.
Alpine Metal Tech operates worldwide under the seven leading brands:
NUMTEC
GEGA*
KNORR
MAKRA
AMAKON
MAGNEMAG
SIMULATION
INTERMATO

Back-up bearings for levellers and tension levellers
Multiroll bearings for the shoulder of cold rolling and hot rolling steel mills
Shoulder bearings for Sendzimir steel mills
Bearing for sinter plants
Back-up bearings for coil conveyor chains
Combined bearings of different types
Chain pulleys
Ball bearings for forklift masts
NUTR, NUKR, NNTR and shoulder bearings
Rail guides
Officine Montorfano are an Italian based company established in 1933 they have specialised in the manufacture and machining of various shafts used in the production of steel. What makes them unique is the type of shafts they manufacture combined with a variety of special materials they use. Products include: Work Rolls for hot & cold plate leveller mills, levelling-straightening work and intermediate rolls, support and back-up rolls, slitter shafts for slitter lines, eccentric shafts and hydraulic pistons and hardened tubing counter cutter rolls.
Officine Montorfano promotes the use of key steel (50CrMoV4) for levelling machines, widely considered the best steel for this application.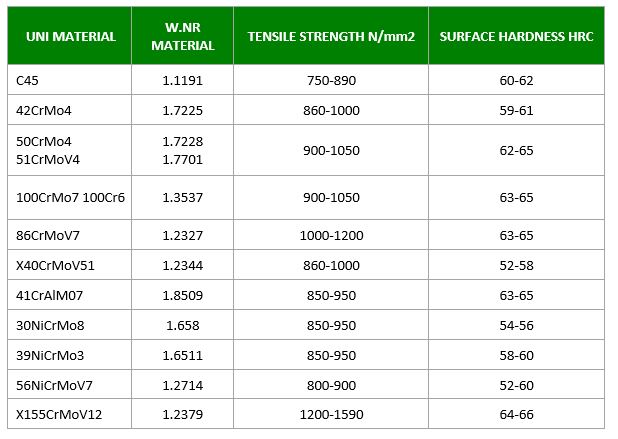 Ladle design and manufacture
Continuous casting of steel slabs

Roller design
Water cooling of rollers
Bearings and bearing housings.
In addition, they provide equipment and services for radioactive detection of scrap metals.
Their latest focus areas include new ecological solutions for even greener steel production, the digitalization of all production-related processes, advanced automation as summed up by the term "Industry 4.0", future-oriented designs for linked casting and rolling, as well as advanced process analysis and optimization. With thousands of references in steel-plant building and numerous next-level services partnerships with steel producers worldwide, They help support our customers in setting new targets and shaping their future in the metals business.
Blades are custom built to your requirements using various compound steels and hard metals utilising the ALCO 550, ALCO 650 and ALCO 750 ranges.